Hands Free Soldering Station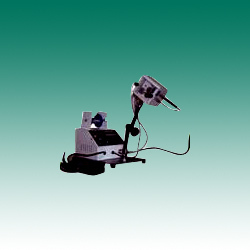 Hands Free Soldering Station
Product Code : HE13
Brand Name : HALLMARK ELECTRONICS
We are one of the leading manufacturers of Hands Free Soldering Station to our highly valued clients. It is the best robot with one piece of arm which can be adjusted and fixed in any position at your desire position by fixing knob. This helps holding soldering iron and feed solder wire automatically and as per the requirement. Hands Free Soldering Station makes soldering quick and convenient. The solder speed, feed amount and the optimum soldering temperature can be controlled freely.
Features :
HFSS is the best soldering system to solve the problem of handing solder wire, the iron and components. This gives the convenience of two extra hands.

Two carden arms, on attached to the solder iron and the second to the solder feeding unit can be easily set to the most suitable soldering position.

Each carden arm has three joints. Arm and joint position can be adjusted With only one knob.
Feeding direction adjustable :
The revolving solder wire pipe unit can be guided in any direction to accommodate the position of the solder iron.

Feeding direction adjustable :
Solder wire can be fed automatically or in drops, depending on the operator's needs
Easy to operate :
The various functions of the HFSS can be mastered in a short time. Even the most delicate soldering job is made easy by the HFSS.
Speeding up productivity :
The HFSS allows direct soldering without pre-soldering use of the HFSS has been proved to boost operational efficiency.
Easy to change tips :
The solder wire, heater and solder iron tip are available in all standard
Contact Details
HALLMARK ELECTRONICS
Sr. No. 46/A1/2, C-6, Sonawane Industrial Estate, Opp Utsav Hotel Lane, Pune-Satara Road, Pune - 411009, Maharashtra, India
Phone :+918068341662
Mr. Rajendra Bonde (Proprietor)
Mobile :+918068341662
Quick Services